In addition to reoccurring programs, Prezdential has engaged youth and families in a variety of outreach initiatives.
Peace in the Streets Basketball Tournament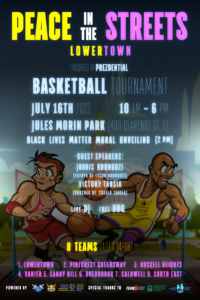 Equal Chance/ Prezdential Headphones Giveaway:
In May 2021, we partnered with Equal Chance and Boys and Girls Club to hold a headphones giveaway for youth struggling with learning at home during the school shut down.
Bounce Back Resilience Challenge:
Bounce Back Resilience Challenge was a social media campaign we created in April 2021 to share stories of resilience in the community. In April 2021 we launched a social media campaign called the Bounce Back Challenge where we invited youth and community leaders to share video stories with us of their moments of resilience. The response was powerful and inspiring.
Equal Chance/ Prezdential Meal and Christmas Gift Giveaway:
In December 2020, we partnered with Equal Chance and Otto's BMW to give away gifts and food to families and children in Overbrook. We partnered last Christmas with Equal Chance, the Ottawa Redblacks, Angies Models, Hera Mission and BMW to do a Christmas Gift Giveaway for low-income families. We were able to provide over 100 families with Christmas gifts. On Christmas day 2020, we partnered with Equal Chance and the Toronto Raptors to deliver meals to low income families in Overbrook.
Santa Claus made a pre-Christmas drop-in at the Rideau Sports Centre on Saturday, handing out wrapped holiday gifts for the benefit of low-income families with children. Santa's endeavor was aided by elves from Prezdential Basketball, Equal Chance, Otto's BMW, the Ottawa Redblacks and Hera Mission.
Party in the Park
In September 2019, we ran the Party in the Park basketball tournament in Overbook in response to a series of violent shootings and stabbings in the community. The purpose of the tournament was to bring the community together and create a sense of safety and positivity. This tournament was held in collaboration with the Overbrook Community Association and Rideau Rockcliffe Community Centre. The tournament was held at the end of a summer during which Prezdential had been running weekly drop-in basketball nights at the Overbrook Community Centre. These drop in nights were a huge success, the drop in basketball nights culminating with the end of summer Party in the Park basketball tournament met our goal of reclaiming the streets and allowing the youth to feel safe while building a sense of community and belonging in their neighbourhood.
SATE presents the 1st Prezdential Basketball Tournament
End of 2020 School Year Meal Giveaway:
At the end of the 2019-2020 school year, we partnered with a local Chef and City Councillor Rawlson King to give out 50-60 takeaway meals to celebrate the end of the school year with the youth in the community. Our staff gave out the meals and coordinated basketball games with the youth.
Ball for Metro:
In January 2020, Prezdential hosted a charity basketball tournament, called Ball for Metro, to celebrate the life of a youth and reclaim community space in the face of gun violence. The purpose of the event was to bring the community together to grieve in a safe space. All funds raised went to pay for the funeral and support the grieving family.
A fundraiser basketball game brought a community together Saturday to help support the family of an 18-year-old man who was shot and killed earlier this month. Manyok Akol was gunned down in his sleep on Jan. 8. He was with friends at a Gilmour Street Airbnb when intruders broke in around 7:30 a.m.
2020 & 2021 Backpack Drive:
In the summer of 2020 we ran our first Prezdential backpack drive for youth and families in Overbrook. We were able to meet our goal of providing 300 backpacks filled with school supplies to students in Overbrook, bringing much needed support to the families of this community. We held a community basketball tournament event to distribute the bags, which was a resounding success. The impact we saw from this initiative was so powerful that in 2021 we ran this initiative again! In the summer of 2021 we once again collected 300 backpacks full of schools supplies, books, headphones, and t-shirts that we gave out during a Prezdential Community Basketball Tournament event. These events brought community together, creates safe spaces and promoted positivity and well being in our community.